Collaborative Robots for Lab Automation
Brooks Automation is the leading provider of robots for lab automation and the trusted partner to life science companies across the globe.
In 2021, Brooks acquired Precise Automation and now offers the PreciseFlex line of cobots for handling SBS plates, vials and tubes. PreciseFlex cobots are the robot of choice for sample handling in Drug Discovery, NGS and Genomics. They are also widely deployed for specimen handling in Clinical Diagnostics applications.
Labs Face Growing Challenges
In the current business landscape, labs are facing challenges due increased demand for faster results and higher test quality. A shortage of qualified labor is affecting productivity, leading to errors, decreased quality and high employee turnover. To address these issues, labs are turning to cobots to automate specimen and sample handling tasks while freeing employees to do more meaningful, higher-value work.
PreciseFlex Cobots boost flexibility and agility, build operational resilience, and augment workforce to address labor shortages.
The PreciseFlex Difference
PreciseFlex cobots offer superior performance, safety, and the…
Highest Throughput
Highest Reliability
Highest Workspace Density
Highest Energy Efficiency
Safety First
PreciseFlex cobots meet the ISO/TS 15066 standard, with verified collision forces by TUV and UL, the first robots to do so. They are safe to operation beside people and work with delicate instruments. (A risk assessment should always be performed before using any robot in production.)
Fast, Easy Deployment
PreciseFlex cobots are easy to deploy with embedded controllers and seamless connectivity to external equipment. Three methods of configuring and programming:
TCP/IP Command Server (TCS) for commands from a supervisory system is the most popular interface for lab automation scheduling software. The commands are open source and can be customized for communication over an Ethernet connection.
Guidance Programming Language (GPL) is a full-featured language for complex applications.
Guidance Motion is a web-interface for basic, simple applications.
PreciseFlex Cobots for Life Sciences
Ideal for benchtop applications where safety, ease-of-use, and space savings are critical
Available with 579, 734 mm horizontal reach
Available with 400, 750, and 1,160 mm vertical reach
Extend reach by 1.0, 1.5, or 2.0 meters with our collaborative linear rail option
An integrated Servo Gripper for portrait or landscape plate handling is included
The latest generation of cobots with a tall Z-axis and large cylindrical work envelope of 900mm
Vertical reach: 500, 1,000, or 1,420 mm
Available with Integrated Servo Gripper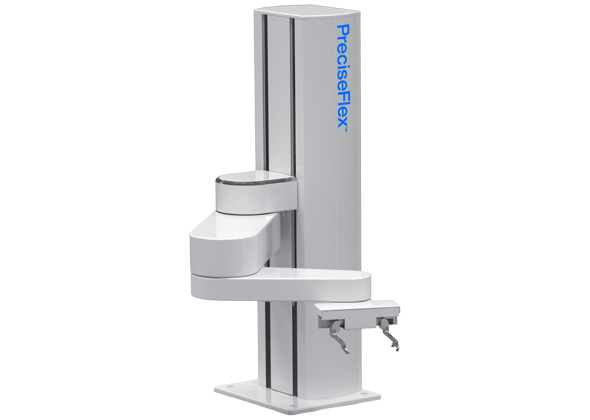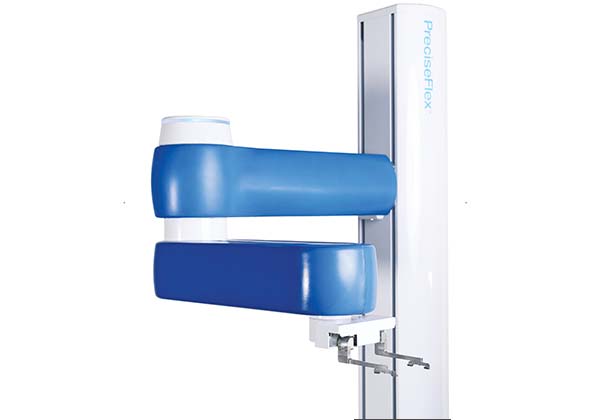 Options
Collaborative Linear Rail 1.0, 1.5 and 2.0 meters
Integrated Servo Grippers: 23N gripper for plate, vial, or tube handling and 60N gripper for higher payload applications.
See product datasheets for more details
Contact us